Back to News
For Immediate Release
THE LIVETRAK L-20 : Add More to Your Mix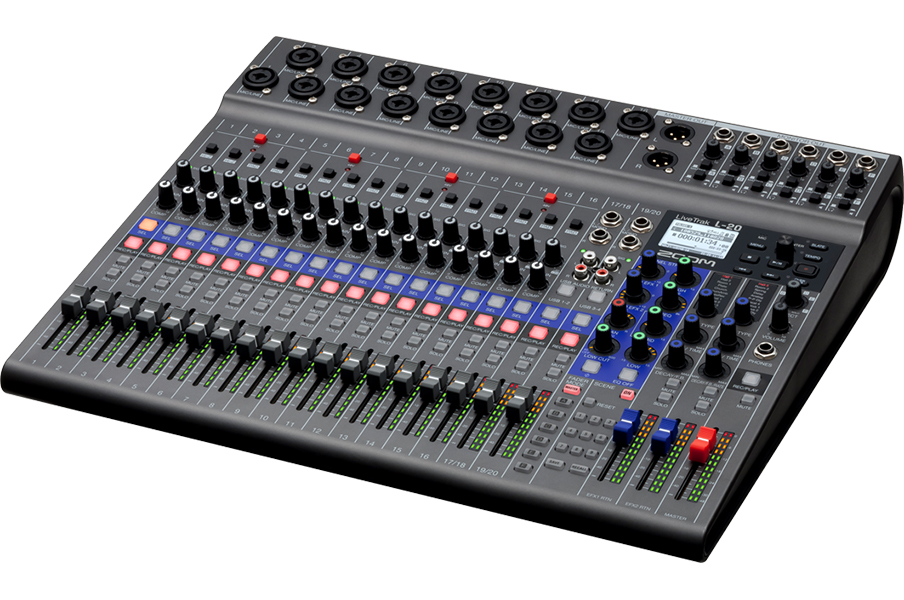 Zoom Corporation introduces the board that does more, the LiveTrak L-20, perfect for bigger, bolder arrangements.
The L-20 boasts 20 inputs including 16 mono mic/line inputs and two stereo inputs. All inputs feature a 3-band mid-parametric EQ and the 16 mono mic/line inputs offer stand-alone compressor control. Musicians can also record up to 22 tracks (20 discrete channels plus a stereo mix directly) directly to an SD card for at-home editing.
The LiveTrak L-20's six independent monitor outputs give each musician control over their own custom headphone mix, complete with effects. All outputs can easily be switched from a powerful headphone output, to a balanced line output for stage monitors. The L-20 also provides a dedicated 7th output just for the FOH engineer, enabling them to monitor the main mix as well as all sub mixes.
The L-20 can be used as a 22-in/4-out USB audio interface, allowing you to route inputs to any DAW or streaming software or have audio streamed back from your computer to be mixed with your live performance. The LiveTrak L-20 even offers wireless control over most onboard functions via a free iOS mobile app. (*Zoom Bluetooth adapter BTA-1 is required.)
The Zoom LiveTrak L-20 will be released this summer.
© 2018 ZOOM Corporation. All Rights Reserved.