Back to News
For Immediate Release
Zoom and Avid Announce Alliance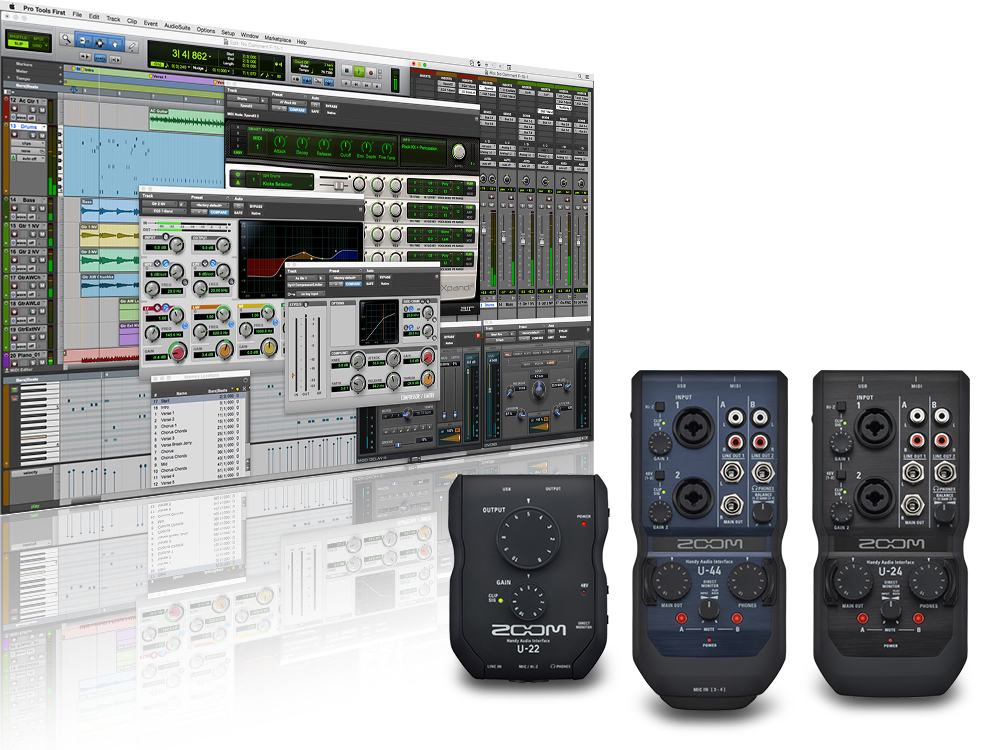 Creators Receive Pro Tools | First with Powerful Enhancement for Zoom USB Handy Audio Interfaces
Zoom Corporation is proud to announce a new collaboration with Avid Technology, Inc., the maker of Pro Tools, the industry standard software for music and sound for film production.  Zoom is teaming with Avid, to offer Avid Pro Tools | First with a valuable collection of additional software. Pro Tools | First is a streamlined version, dedicated to making music everywhere, using the same tools that audio professionals use in recording studios.
This offer is available when purchasing Zoom's Handy Audio Interface models U-44, U-24, U-22.  After purchase, creators can go to avid.com/zoom and register to download the latest version of Pro Tools|First together with a valuable collection of audio software.
"We are delighted and honored to join forces with Avid," commented Massimo Barbini, Zoom Corporation Chief Sales Marketing Officer.  "Zoom U-series audio interfaces are priced within reach and provide great mobile solutions for creators working on laptops and iPads. Combined with Pro Tools | First will give music creators the ability to make music like the pro's do".
In addition to the free software offer, Zoom and Avid will team-up throughout the year to showcase Zoom products working seamlessly with Pro Tools, not only at major industry trade shows, but also during year-round Avid demonstrations and events.
"Avid enthusiastically looks forward to our collaboration with our friends at Zoom," remarks Ed Gray, Director, Partnering Programs at Avid.  "The quick trip to Pro Tools, with its valuable collection of software and effects, is a great way for those getting started with Zoom products to expand their audio creativity."
Below is a full list of 21 additional plugins for ZOOM U-series users.
Eleven Lite
Graphic EQ
In-Tune digital tuner
Sci-Fi Ring Modulator
* For more details about Pro Tools | First, please visit the following Avid website.
https://www.avid.com/pro-tools-first
© 2018 ZOOM Corporation. All Rights Reserved.