Good things come in small packages
The Zoom H1
Handy Recorder
The ultra-compact H1 Handy Recorder brings new meaning to the term "portability." Small enough to slip in your pocket, it offers professional-quality stereo recording at an incredibly affordable price. Take it with you wherever you go—live concerts and band rehearsals, location video shoots, lectures and meetings—or use it to capture your musical ideas whenever inspiration strikes. 
Using the H1
You can count on your H1 to deliver pristine audio wherever you go. Here are just a few ways it can be used:
Recording live concerts and rehearsals.  
Capturing audio for video.   
Documenting lectures and meetings—faster and easier than taking notes!
Conducting interviews in the field.  
Capturing song ideas.   
X/Y recording made simple
The X/Y technique provides a great way to cover a wide area while still capturing sound sources in the center with clarity and definition, making it perfect for all types of live stereo recording. 
The H1's built-in X/Y microphone provides two matched unidirectional microphones set at a 90 degree angle relative to one another, optimum for most stereo recording applications.
Alternatively, you can connect a pair of external microphones or line level signal to the H1's Mic/Line Input mini phone jack for X/Y or other types of stereo recording.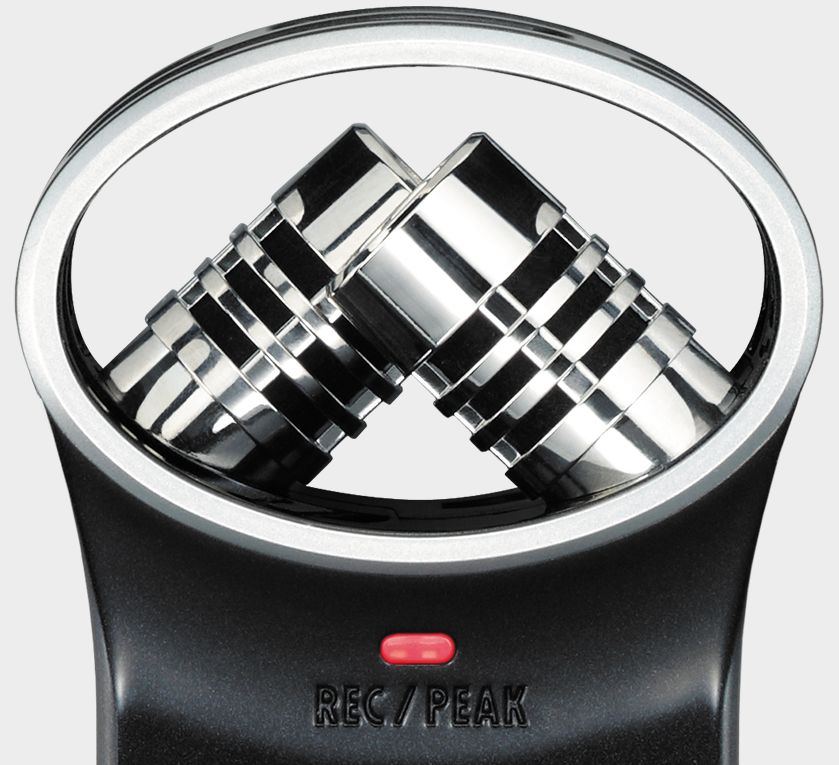 The Ins and Outs
The H1 Mic/Line Input is a stereo ⅛" mini phone jack that can accept two mic- and/or line-level signals. Condenser microphones requiring Plug-In Power (2.5 volts) can be connected to this jack.
The H1 Line/Headphones Output is a stereo ⅛" phone jack with a dedicated volume control. Headphones can be connected here for private monitoring. There's also a built-in speaker on the back panel for fast monophonic monitoring of the recorded signal without the need to make any connections.
The H1's USB port provides a digital output of the stereo mix and allows data to be sent to and from your computer. From there, it can be imported into editing software such as the supplied WaveLab LE.  It also allows the H1 to be used as a 2-in/2-out audio interface and USB microphone, as well as a microSD card reader.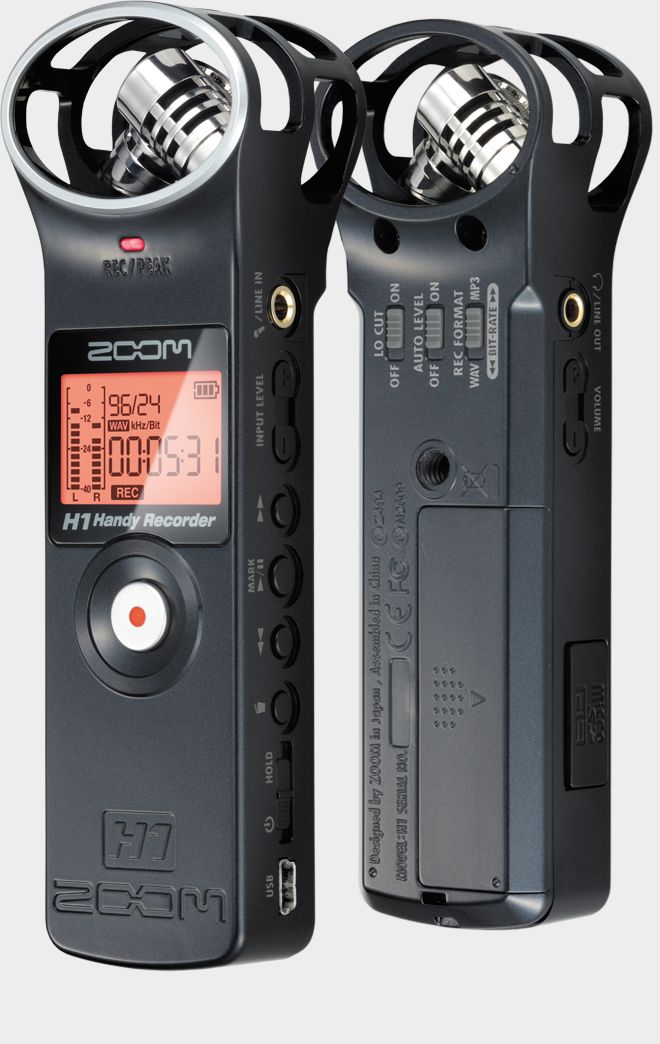 Auto Level and low cut filter
The H1's Auto Level function sets input gain automatically to prevent
overload and distortion. Alternatively, input level can be set manually.
The H1 also provides a built-in low cut filter for the elimination of pops,
wind noise, blowing, and other kinds of low frequency rumble.
File types supported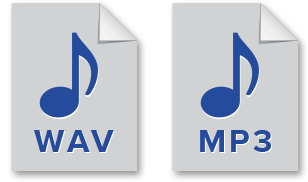 The H1 records audio in two different basic file types: WAV and MP3. The main difference between the two is that WAV files are uncompressed; that is, they contain all the recorded signal without any data being removed. The WAV files recorded by the H1 can be either 16- or 24-bit, with sampling rates of 44.1, 48, or 96kHz, and are automatically time-stamped, making them Broadcast Wave Format (BWF) compliant—especially important when recording audio for video since it allows for precise synchronization in post-production.
MP3 recordings are compressed, which means that some unnecessary data is removed prior to storage, making them much smaller than WAV files, and thus much easier to upload and download. Some MP3 files exhibit a slight loss of audio fidelity as compared with the original signal; however, this is not noticeable in all circumstances.
Battery life and recording times

The H1 requires just a single AA battery—either alkaline or rechargeable NiMH—for power. Battery life when using an alkaline battery is up to 10 hours, even during continuous recording. Alternatively, you can use an optional AD-17 AC adapter, which allows you to power the H1 from any standard wall socket.
The H1 records directly to microSD and microSDHC cards, up to 32 gigabytes. The chart below shows maximum recording time with different file formats and card sizes.

*Recording times are approximations. Actual times may differ according to recording conditions.
*The maximum file size is limited to 2GB.
State of the art editing with every recorder
The Zoom H1 comes with free download licenses for Sternberg's Cubase LE music production software and WaveLab LE audio editing software, providing not just the ability to capture superior audio in every box, but to do spectacular things with it.
Take your recordings to a more professional level. Steinberg's powerful and state-of-the-art audio software used by creators around the world now comes with every Zoom Handy Recorder purchase.
Currently shipping with:
Cubase LE8 for Mac OS X 10.9/10.10/10.11 and Windows 7/8/8.1/10
WaveLab LE9 for Mac OS X 10.10/10.11 and Windows 7/8/8.1/10
For information on license activation and upgrades, visit our Steinberg Software support page.
Features at a glance
Built-in 90˚ X/Y stereo mic  
Stereo ⅛" Mic/Line Input mini phone jack with Plug-in power (2.5V)
Stereo ⅛" Phones/Line Output jack with dedicated volume control
Built-in reference speaker for fast monitoring
Backlit LCD display
Records directly to microSD and microSDHC cards up to 32GB
Supports up to 24-bit/96kHz audio in BWF-compliant WAV or a variety of MP3 formats
Auto Level for automatic control of input level  
Low-cut filter for elimination of wind noise and rumble
Up to 99 marks per recording
USB port for data transfer to computer and use as an audio interface and USB microphone
SD card reader function  
Mounts directly to tripod, or to mic stand or DSLR with optional adapter
Runs on only 1 standard AA alkaline or NiMH rechargeable battery
Up to 10 hours of operation with a single AA alkaline battery
Accessories
Here's what comes included with the H1:  
Operation manual    
2GB microSD card
1 AA Battery
Steinberg Cubase LE software download
Steinberg WaveLab LE software download
Optional H1 accessories
AD-17 AC adapter
APH-1 accessory package includes windscreen, AC adapter (USB type), USB cable, adjustable tripod stand, padded shell case, and mic clip adapter
WSU-1 universal hairy windscreen
HS-1 hot shoe mount
MA-2 tripod to mic stand adapter for Handy Recorders
Media
Video
Zoom H1: Introduction
Learn all about the H1's features and functionalities in this video. 
Zoom H1: How to update your firmware
This tutorial demonstrates how to upgrade the firmware on the H1 Handy Recorder.
Zoom H1: How to import files to your computer
This guide shows how to connect and transfer files from the H1 to PC/MAC.
Using your Zoom Recorder with a DSLR Camera
Connect a Zoom Handheld Recorder to your DSLR camera to add professional quality audio to your films and videos.
Specs
Simultaneous recording tracks:

2

Simultaneous playback tracks :

2

Functions:

Lo-cut Filter, Auto REC Level, Marker

Recording/playback format:

WAV: 44.1 / 48 / 96kHz, 16- / 24-bit
MP3: 44.1kHz 48/56/64/80/96/112/128/160/192/224/256/320kbps

A/D conversion:

24-bit, 128x oversampling

D/A conversion:

24-bit, 128x oversampling

Signal processing:

32-bit

Recording media:

microSD card (16MB - 2GB)
microSDHC card (4GB - 32GB)

Display:

127 segment custom LCD (with backlight)

Built-in stereo mic:

Unidirectional condenser

Gain:

0 to +39dB

Minimum gain with digital attenuation:

-28dB

Maximum sound pressure level:

120dB SPL

Mic/line input:

1/8" stereo phone jack (Plug-in power supported)

Input Impedance:

2kΩ (Input level: 0 to -39dBm)

Phones/line output:

1/8" stereo phone jack

Output load impedance:

10kΩ or more

Rated output level:

-10dBm

Phones output level:

20mW + 20mW into 32Ω load

Output load impedance:

10kΩ or more

Rated output level:

-10dBm

USB interface:

Type: Mini-B type (USB 2.0 High Speed compatible), Mass Storage Class operation

Format: 44.1 kHz/16-bit or 48 kHz/16-bit

Power requirements:

Alkaline or Ni-MH AA battery x 1, or AC adapter (AD-17, USB to AC type)

Battery life (alkaline batteries):

10 hours (MP3), 9.5 hours (WAV)

Dimensions:

44(W) x 136(D) x 31(H)mm

Weight:

60g (without batteries)