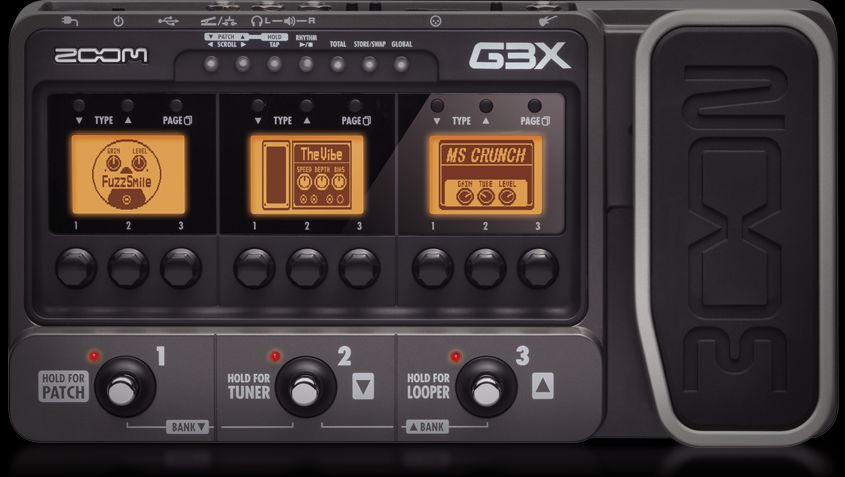 Express yourself
The Zoom G3X
Guitar Effects & Amp Simulator with Expression Pedal
With its built-in expression pedal, 94 effects and 22 amp and cabinet models, Zoom's G3X will have you coaxing amazing sounds from your guitar within minutes. Three integrated stompbox-style displays, each with its own dedicated foot switch and control knob, make programming a breeze. There's also an onboard chromatic tuner, a balanced line-level output, a USB port—even a drum machine and Looper. With the G3X, you'll be able to express yourself in ways you never thought possible.
Over a hundred different ways to craft your sound
The G3X provides a whopping 116 different onboard DSP effects and amp/cabinet models. 
These include compressors, noise gates, filters, equalizers, and wah effects, as well as boosters, overdrives, fuzzes, phasers and flangers, plus chorus, pitch shift, tremolo, vibrato—even ring modulation. There are simulations of both classic and contemporary pedals such as the MXR Dynacomp and Distortion+, Moog MF-101, Ibanez TS808, Marshall Guv'nor, Fuzz Face, Big Muff, Pro Co Rat, ADA Flanger, and Boss OD-1, DS-1, Metal Face, and CE-1. Original effects include Zoom's Noise Reduction (ZNR) algorithm and ExtremeDS, which offers the most powerful gain of any distortion effect in the world. You'll also find 20 delays and natural-sounding reverbs here, including rooms, halls, arenas, plates, springs, and tape delay simulators, as well as dual effects such as chorus/delay, compressor/overdrive, and delay/reverb. 
The 22 amp models provided by the G3X include emulations of both vintage and modern tube and solid-state amplifiers from manufacturers like Fender, Marshall, Matchless, Mega Boogie, Sound City, Hiwatt, Orange, Two Rock, Diezel, and ENGL, each with its own distinct cabinet modeling that can be used to further alter the tonal quality. What's more, you can pair any amp model to any cabinet model for unusual, and often striking effects. You can even match the output of a given amp/cabinet model to the actual setup you're playing through (options include Line, Combo Front, Stack Front, Combo Power Amp, and Stack Power Amp). 
NOTE: Manufacturer names and product names are trademarks or registered trademarks of their respective owners. The names are used only to illustrate sonic characteristics and do not indicate any affiliation with the Zoom Corporation or Zoom North America.

Easy to use and packed with power
The intuitive design of the G3X allows easy navigation in both live and studio settings and makes creating, saving, and rearranging effects a breeze. Three LCD screens, each with corresponding foot switches and parameter knobs, form a large graphical interface that allows you to view and edit multiple effects at a glance.  
Up to 6 effects can be used simultaneously, arranged in any order you like, and signal flow can be reversed at the touch of a button. 100 patch memories are provided for the storage of custom edited and chained multi-effects, all pre-loaded with useful factory settings. Changing patches is near-instantaneous and requires just a tap of a foot switch.
A standard ¼" input jack and passive/active switch allow you to plug any electric guitar into the G3X. Outputs are provided on dual ¼" (one stereo, one mono) and balanced XLR output jacks, enabling the unit to be connected to headphones, amplifiers or line-level devices (pre- or post-effect) such as external effects devices, recorders, and mixing boards. 
Only 4 AA batteries—either alkaline or rechargeable NiMH—are required for power, or you can use the supplied AC adapter. Battery life is up to 6 hours when using alkaline batteries, and an "Eco" setting automatically powers the unit off if unused for extended periods. 

Advanced features
The G3X offers a slew of advanced features, including a built-in chromatic tuner that supports a variety of standard guitar tunings—even drop tunings. A Tap Tempo function allows you to set delay times and modulation effect frequencies in real time to the rhythm of the song you're playing. There are 41 realistic-sounding rhythm patterns too—PCM samples of drums being played in a variety of different genres and time signatures. 
It's easy to create full orchestrations with your G3X. An onboard Looper enables you to layer up to 40 seconds of performance (through the effect or effects of your choice) in high quality 16-bit 44.1kHz audio. The Looper can also be used in conjunction with rhythm accompaniments, allowing you to play along with the pattern of your choice.
Using your G3X with a computer
The G3X has a USB port for connection to any Macintosh or Windows computer, allowing it to act as a 2-input / 2-output audio interface. Simply launch your DAW or the included Steinberg Cubase LE software and start laying down tracks. Direct monitoring during recording ensures zero latency, allowing you to overdub with ease.
The G3X is also fully compatible with Zoom's Edit & Share software, available below as a free download. This easy to use software allows you to catalog, edit, and share your patches. Powerful sorting tools help you quickly find exactly the sound you're after, then drag, drop, and reload them in whatever order you need for your next gig—easy to do with a laptop even if you're on the road.
Express yourself
The G3X expression pedal can be used for input or output volume or to affect parameters such as delay time, modulation speed, or pitch bend. Pedal range can be independently adjusted for every patch, and you can even set the minimum value higher than the maximum value for reverse pedaling effects.  A simple calibration procedure enables you to customize pedal sensitivity, allowing the G3X to adapt to your particular pedaling style.
State of the art editing with every G3X
The Zoom G3X comes with a free download license for Sternberg's Cubase LE music production software, providing not just the ability to create incredible guitar sounds in every box, but to do spectacular things with it.
Take your recordings to a more professional level. Steinberg's powerful and state-of-the-art audio software used by creators around the world now comes with every Zoom G3, G3X, and G5 purchase.
Currently shipping with:
Cubase LE8 for Mac OS X 10.9/10.10/10.11 and Windows 7/8/8.1/10
For information on license activation and upgrades, visit our Steinberg Software support page.
Features at a glance
94 effects, including distortion, compression, modulation, delay, and reverb  
22 amp / cabinet models
Built-in expression pedal for control over volume or selected effect parameters
3 backlit LCDs with contrast control  
Intuitive user interface
Ultra-fast (1ms) patch change speed
Up to 6 effects can be used simultaneously, chained together in any order
100 memory locations for the storage of user-created patches 
100 factory preset patches
Store and Swap functions make patch organization a breeze
Auto Save function for automatic saving of all patch parameters
Onboard chromatic tuner supports all standard guitar tunings, including open and drop tunings
Tuner range of 435 – 445 Hz
Looper allows recording of up to 40 seconds of CD-quality phrase recording 
41 built-in rhythm patterns which can be used in conjunction with the Looper
Easily integrated into any existing pedalboard
Input jack accepts standard mono guitar cable 
Active/Passive switch
Built-in expression pedal for control over volume or selected effect parameters   
Control input for external foot switch or expression pedal
Dual output jacks for connection to amps or headphones
Balanced XLR output jack with ground lift for DI connection (pre- or post-effect) to line-level devices, mixing boards, and recorders
Runs on 4 AA batteries, with alkaline battery life of more than 6 hours
Included AC adapter 
USB port for bus power and firmware updates
2-in/2-out USB audio interface for PC/Mac computers
Compatible with Zoom Edit&Share patch software 
Includes Steinberg Cubase LE recording software
Accessories
Here's what comes included with the G3X:
Operation manual
AC adapter (Zoom AD-16)
Steinberg Cubase LE recording software
Optional accessories:
FP01/FP02 expression pedal
FS01 foot switch
Specs
GENERAL
Number of effects:

116

Number of simultaneous effects:

6

Number of patches:

100 (10 banks of 10)

Sampling frequency:

44.1 kHz

A/D conversion:

128× oversampling

D/A conversion:

128× oversampling

Signal processing:

32−bit

Frequency characteristics:

20Hz – 20 kHz +1 dB, -3 dB (into 10 kΩ load)

Display:

Backlit dot matrix LCD x 3

Input:

Type: Standard mono ¼" phone jack

Rated input level: -20 dBm*

Input impedance: 1 MΩ ACTIVE/PASSIVE (switch selectable)

Output:

R:                                            

Type: Standard mono ¼" phone jack
Maximum output level: +5 dBm (output impedance load of 10 kΩ or more)

L/Mono/Phones:                 

Type: Standard stereo ¼" phone jack
Maximum line output level: +5 dBm (output impedance load of 10 kΩ or more)
Maximum headphones output level:  20 mW + 20 mW (into 32Ω load)

Balanced:                              

Type: XLR connector
Output impedance: 100 Ω (HOT-GND, COLD-GND), 200 Ω (HOT-COLD)

PRE/POST (switch selectable)
GND LIFT (switch selectable)

Control input:

For Zoom FP01/FP02/FS01

Battery type:

AA size (LR6) battery x 4

Continuous battery operation time:

6 hours when using 4 AA alkaline batteries

AC adapter:

DC 9V center-negative, 500 mA (Zoom AD-16)

S/N (input conversion noise):

120dB

Noise Floor (residual noise):

-100dBm

USB
USB interface:

Sampling frequency: 44.1 kHz

Bit rate: 16-bit

Compatibility: Windows® XP SP3 (32bit) or newer with Intel® Pentium® 4 1.8GHz or faster, RAM 1GB or more

                      Windows® Vista SP1 (32bit, 64bit) or newer /

                      Windows® 7 (32bit, 64bit) with Intel® Pentium® Dual-Core 2.7GHz or faster, RAM 2GB or more

                      Mac OS X 10.5/10.6/10.7 with Intel® Core Duo 1.83GHz or faster, RAM 1GB or more

Other
Dimensions:

175mm(D) x 323mm(W) x 66mm (H)

Weight:

1.6kg 

* Note: 0 dBm = 0.775 Vrms