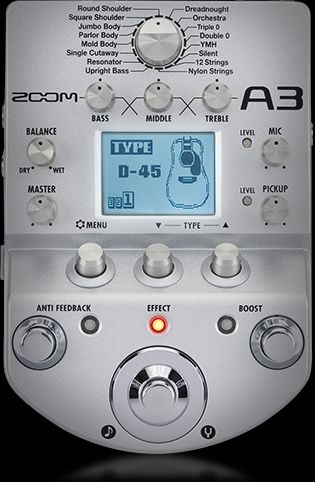 The perfect acoustic accompaniment
The Zoom A3
Pre-Amp & Effects for Acoustic Guitar
Reproducing the delicate tone of an acoustic guitar onstage can be challenging. Pickups have a tendency to make the sound flat and lifeless, while microphones often introduce feedback. Zoom's A3 provides the perfect solution. This compact pre-amp/effects pedal provides everything you need to restore and enhance the natural tone of your instrument, or even transform it into a different-sounding one altogether. Powerful remodeling features combined with great-sounding effects and advanced features such as feedback suppression, auto-chromatic tuner, 3-band equalization and a Clean Boost foot switch make the A3 the complete sonic toolbox for acoustic guitar.
Dozens of ways to restore and reshape the sound of your guitar
The A3 provides remodeling presets for 16 different body types/shapes and 28 world-renowned acoustic guitars, allowing you not only to restore the true sound of your guitar but to simulate the tonal characteristics of other instruments as well. In addition, there are 40 onboard DSP effects, each carefully crafted to enrich the tone of acoustic guitar. For ease of use, these are organized into the following categories:
Body and model types 
You'll find many popular acoustic guitar bodies and types here, from Dreadnought to Jumbo, from Round Shoulder to Square Shoulder, and from Single Cutaway to Resonator. Also included are emulations of Martin 00 and 000 models, resin-body guitars such as the Ovation Adamas, and both twelve-string and nylon-strings—even upright bass. All A3 models accurately recreate the tonal differences between instruments, down to the bracing and type of wood from which they are made.
Dynamics Effects / Filters 
Shape and tame your sound with 10 compressors, equalizers, exciters, and wah effects, along with Zoom's Noise Reduction (ZNR) algorithm, designed to remove noise during pauses while still maintaining your instrument's natural tone. 
Modulation
Add the shimmering silkiness of phasing, flanging, chorus, tremolo, vibrato, detuning, and pitch shifting with these 9 effects.  
Delay
The A3 provides 5 different kinds of delays, including reverse, multi-tap, and self-oscillating delays. 
Reverb 
A dozen adjustable rooms, halls, arenas, plates, and springs that allow you to add depth and spaciousness to your sound. The A3's cutting-edge DSP microchip performs 32-bit floating-point calculations, giving it the ability to create sophisticated studio-quality effects such as the realistic simulations found here.  
Mic 
Three different microphone models: emulations of the popular Shure SM57, AKG C414, and Neumann U87.
NOTE: Manufacturer names and product names are trademarks or registered trademarks of their respective owners. The names are used only to illustrate sonic characteristics and do not indicate any affiliation with the Zoom Corporation or Zoom North America.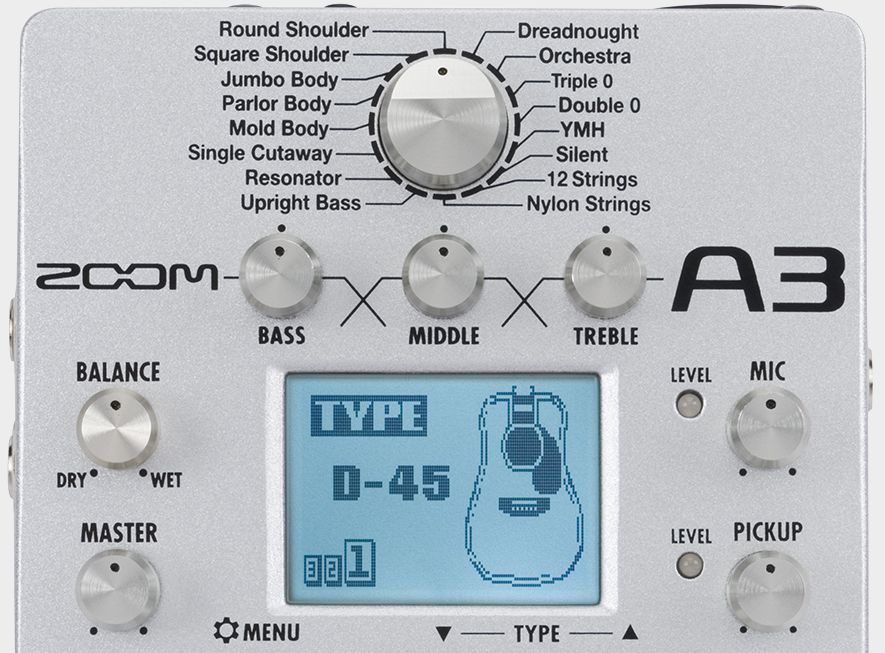 Full-featured and easy-to-use
The A3 offers a super-low noise floor and provides separate input jacks for both pickup and microphone, with dedicated gain controls for each, as well as a master level knob and a wet/dry balance control. A three-way Pickup Select switch allows the A3 to be used with piezoelectric, magnetic, and passive pickups, and the phase of the mic input can be reversed. You can even apply phantom power (+24 or +48 volts), enabling the use of condenser microphones.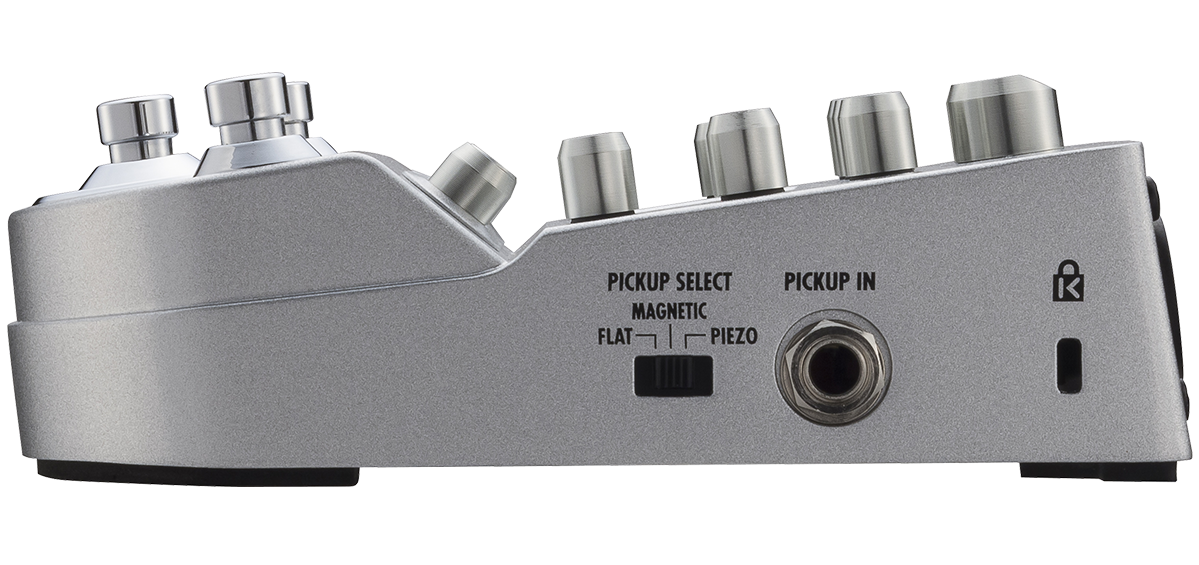 There are dual line-level output jacks for connection to a PA; headphones can also be connected here for private monitoring. In addition, a balanced XLR output with a Ground switch enables the A3 to be used as a direct box.
The A3's intuitive graphic interface allows easy navigation and makes creating and editing effects a breeze. You can use up to 3 effects simultaneously and arrange them in any order you like. There are 20 patch memories where you can store your custom edited and chained multi-effects. An Auto Save function ensures that edits you make are automatically saved, and you can create a list of up to 26 patches to cycle through as you step on the foot switch—handy for live gigs or whenever you want your effects in a certain order.
The onboard chromatic tuner supports a variety of standard guitar tunings, including drop tunings, and you can opt to either bypass all effects during tuning or to mute the outputs so that you can tune in silence. Lastly, a Tap Tempo feature enables you to to set delay times and modulation effect frequencies in real time to the rhythm of the song you're playing.   

Advanced features
The A3 is packed with advanced features for the acoustic guitarist. Three-band equalization allows you to shape your sound to compensate for the acoustics of every environment, and an Anti-Feedback circuit automatically detects ringing and eliminates up to three frequencies simultaneously, with minimal effect on tonal quality. A Clean Boost control with adjustable tone enables you to add up to 12dB of extra gain at the touch of a foot switch—useful for those moments when you need to step into the spotlight and feature your instrument—and there's a low cut filter for the removal of rumble and other low frequency noise. Last but not least, there's a USB port for connection to your computer for firmware updates.
The A3 runs on just 4 AA batteries—either alkaline or rechargeable NiMH—or you can use the supplied AC adapter. Battery life is up to 8 hours with alkaline batteries, allowing you to use the A3 with confidence from rehearsal to the main stage. An "eco" function automatically turns the pedal off if unused for extended periods.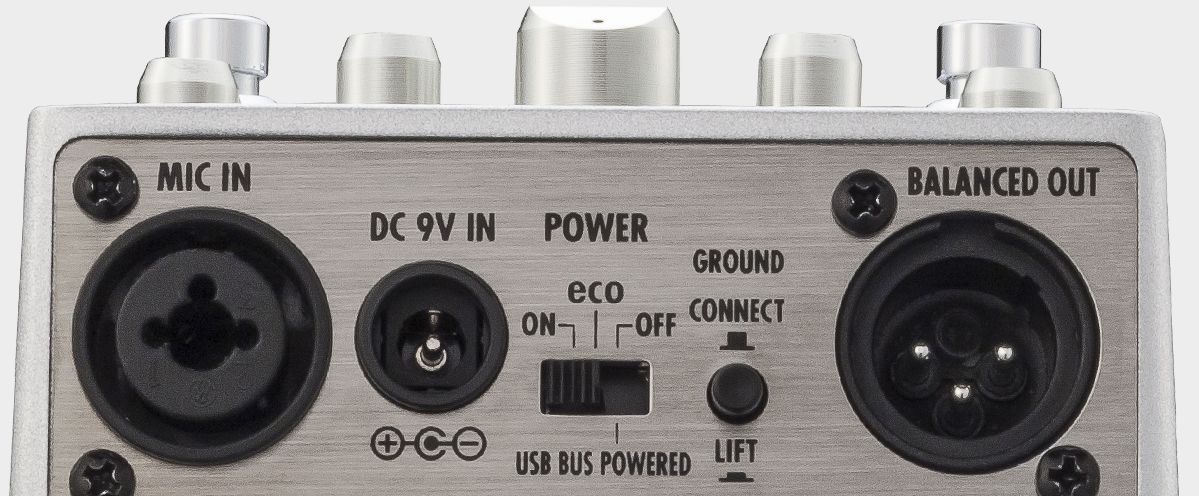 Features at a glance
High quality preamp can be used with both pickup and mic
Super-low noise design
3-band graphic EQ
Acoustic modeling for restoration of body tone even when using a pickup
Remodeling presets for 16 body types and 28 popular acoustic guitar models
40 effects specially crafted for acoustic guitar, including compression, equalization, modulation, delay, and reverb 
Up to 3 effects can be used simultaneously, in any order
20 memory locations for the storage of user-created patches
Backlit LCD with contrast control for easy viewing in low-light environments
Patch cycling
Automatic feedback detection and elimination
Clean Boost foot switch for up to 12 dB of additional gain
Onboard chromatic tuner supports all standard guitar tunings, including open and drop tunings
Tuner range of 435 - 445 Hz
Tap Tempo for synchronization of delay times or modulation rates
Auto Save function for automatic saving of all patch parameters
Standard ¼" pickup input with three-way pickup compensation switch  
Combo XLR/TRS Mic/Line input with phantom power and phase reversal
Input sensitivity, balance and master level controls
Dual ¼" output jacks for connection to PA and headphones
Balanced XLR output with ground lift for DI connection  
USB port for firmware updates
Rugged die-cast body ensures roadworthiness
Small enough to fit in your guitar case or gig bag
Easily integrated into any existing pedalboard
Runs on 4 AA batteries, with alkaline battery life of up to 8 hours
Supplied AC adapter
Accessories
Here's what comes included with the A3:
Operation manual         
AC adapter (Zoom AD-16)
Media
Video
Zoom A3 Getting Started with the Acoustic Pedal
This tutorial reviews the A3 acoustic pedal. This video is an overview of the basic functions of this device including: tuning, how to set up an effect, saving/storing a patch, scrolling through a patch and more!
Zoom A3: Demo and Review
Brett Kingman runs through some of the sounds and features of the A3 on his Martin OM28E.
Zoom A3: Demo and Patch Setup
Listen to A3 sounds, and see Bax-shop.nl set up a brand new patch.
Specs
Number of effects:

40 + 28 guitar models

Number of simultaneous effects:

3

Number of patch memories:

20

Sampling frequency:

44.1 kHz

A/D conversion:

24-bit 128 x oversampling

D/A conversion:

24-bit 128 x oversampling

Signal processing:

32-bit floating point and 32-bit fixed point

Frequency response:

40Hz - 20 kHz +1 dB, -3 dB (into 10 kΩ load)

Input:

Type: Standard 1/4" phone jack (PICKUP), Combo XLR/TRS (MIC)
Rated input level: -20 dBm
Input impedance: 1MΩ

Output:

Type: Stereo 1/4" phone jack (L/MONO/PHONES), Monaural 1/4" phone jack (R), XLR (BALANCED OUT)

Maximum output level: L/MONO/PHONES/R: +5 dBm (output impedance load of 10 kΩ or more)

Output impedance: BALANCED OUT: 100 Ω (HOT-GND, COLD-GND), 200 Ω (HOT-COLD), GND LIFT (switch selectable)

 

S/N (equivalent input noise):

120 dB

Noise floor (residual noise):

-100 dBm

Battery type:

AA size (LR6) battery x 4

Continuous battery operation time:

8 hours when using 4 AA alkaline batteries

AC adapter:

DC 9V center-negative, 500 mA (Zoom AD-16)

USB:

Firmware update

Dimensions:

160.3 (D) x 108.0 (W) x 54.9 (H) mm

Weight:

640g (without batteries)

* Note: 0 dBm = 0.775 Vrms