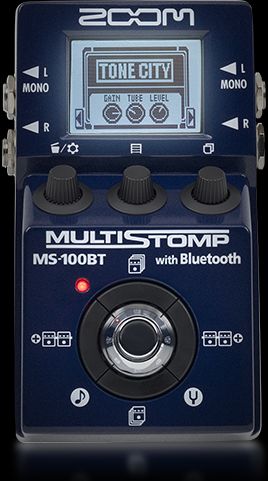 The world's first Bluetooth stompbox
MS-100BT
MultiStomp Guitar Pedal with Bluetooth®
Imagine a powerful, easy-to-use guitar stompbox loaded with 100 of the world's most popular effects and amp models. Then imagine being able to instantly download even more effects and models directly from your iPhone, iPad or iPod Touch. That's the Zoom MS-100BT: The world's first multi-effects pedal to incorporate Bluetooth® technology. In conjunction with Zoom's free StompShare app (available for download in the Apple App Store), you can try, buy and download new effects any time you need them—in the middle of a session, before your next gig, or just for practice. With the MS-100BT, the perfect guitar sound is always just a swipe away. 
You've never seen a guitar pedal do this!
Bluetooth is everywhere.  It's in cars, it's in headphones and headsets, and it's in your iPhone, iPad, and iPod Touch. And now, with the MS-100BT, it's in a guitar pedal too.
Bluetooth is the ultimate high-speed wireless solution for sending and receiving data. It allows you to use the MS-100BT with Zoom's StompShare app, a virtual effects shop available from the Apple App Store for free download. Bluetooth connectivity also enables you to quickly and easily update the firmware in your MS-100BT.
StompShare: The one-stop shop for effects and amp models
StompShare offers a wide range of both modern and classic effects and amp models. Once you're in the StompShare shop, you can browse around just as if you were in a real store. You can listen to demos, read detailed descriptions of each effect's or amp's history and editable parameters, even get suggestions for ways it can be used. It's like having the world's most knowledgeable salesman right at your fingertips!
StompShare allows you to try effects and amp models before you buy them, allowing you to test them thoroughly with your own guitar setup, and in the familiar enviornment of your home or studio—something you can't do in a real store. During the 15-minute trial, you'll be able to adjust every parameter to your liking and use the effect in combination with other effects and amp models in your MS-100BT. When you're done, you can either install the effect permanently or move on to explore the other effects and models in the shop.
Click here to check out StompShare on the app store.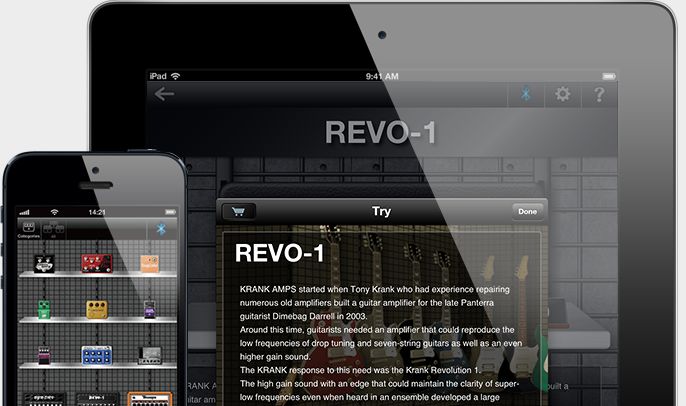 92 effects + 8 amp simulators = 100 great sounds
The MS-100BT allows you to choose from 100 different onboard DSP effects.  For ease of use, these are organized into the following categories:
Dynamics / Filter 
Shape and control your sound with these 20 compressors, noise gates, filters, equalizers, and wah effects. Go for the classic tone of the MXR Dynacomp, Aphex PunchFactory, Moog MF101, or Z. Vex Seek-Wah, or craft original effects using the automatic Slow Attack, parametric equalizer, or six-band graphic EQ. You'll also find talking modulators here, as well as random and comb filtering effects and Zoom's Noise Reduction (ZNR) algorithm, designed to remove noise during pauses while still maintaining your guitar's natural tone. 
Overdrive / Distortion 
The MS-100BT's 21 boosters, overdrives, fuzzes, and lead guitar sounds include emulations of the BOSS OD-1, DS-1, and Metal Zone, as well as the Fuzz Face, Ibanez TS808, MXR Distortion+, Marshall Guv'nor, Matchless Hot Box, Electro-Harmonix Big Muff, and Pro Co Rat. Our ExtremeDS effect offers the most powerful gain of any distortion effect in the world, and there's even a simulator that allows your electric guitar to sound like an acoustic.
Amp models 
8 of the most realistic amp models ever created, including emulations of the finest tube and solid-state amps from manufacturers like Fender, Marshall, Two Rock, Diezel, and ENGL.  
Modulation / Special effects 
29 different modulation and special effects are provided, including phasing, flanging, chorus, pitch shift, tremolo, vibrato, ring modulation, auto-rotary speaker simulation, and autopanning—even an intelligent harmonizer that plays along in key. Also provided are emulations of the Boss CH-1 Super Chorus and CE-1 Chorus Ensemble, and ADA and MXR 117R flangers, as well as off-the-hook effects like MojoRolle, Slicer, BitCrush, and Bomber.
Delay / Reverb 
You'll find 22 mono and stereo delays and reverbs here, including natural-sounding rooms, halls, arenas, plates, springs, and tape delay simulators, all designed to add depth and spaciousness to your sound. The MS-100BT even offers reverse, pitch-shifted, filtered, multi-tap, and self-oscillating delays—everything you need to give your sound realistic depth and dimension.  
View the full list of all the MS-100BT effects, along with a list of their editable parameters.
NOTE: Manufacturer names and product names are trademarks or registered trademarks of their respective owners. The names are used only to illustrate sonic characteristics and do not indicate any affiliation with the Zoom Corporation or Zoom North America.
MS-100BT features
The MS-100BT offers a wealth of features that make it easy to dial in the exact sound you want. Programming is simple and straightforward, thanks to a streamlined user interface and backlit LCD screen. Its stereo input jack accepts signal from passive and active guitars, as well as from line-level devices such as electronic keyboards and other effects processors, and its dual line-level output jacks enable you to record the MS-100BT's many sounds in stereo.
Chaining effects: multiple effects, in any order 
The MS-100BT allows you to use up to 6 effects simultaneously. This means that you can create rich, complex sounds within the unit itself instead of having to use multiple pedals.
You can also chain effects together in any order you like—important because an overdriven chorus sounds quite different from a chorused overdrive. Experimentation is the key. 
Patch cycling: cycle through effects in any order 
The MS-100BT provides 50 areas of memory where you can store your edited and chained multi-effects. These are called patches, and 30 of them are pre-loaded with great effects, which can easily be overwritten if you need extra space. 
In addition, you can create a custom list of up to 26 patches for the MS-100BT to cycle through as you step on the foot switch—handy for live gigs or whenever you know that you'll need to access certain effects in a certain order. This list can easily be reordered or erased at any time.
Tuner: tuning made easy  
The MS-100BT has a built-in chromatic tuner that supports all standard guitar tunings—even drop tunings of up to 3 semitones. 
When activated, the LCD immediately shows you whether the note you're playing is sharp, flat, or dead on. You can opt to either bypass the currently selected effect (thus giving you a clean, unaffected sound) when tuning, or to mute the signal altogether, allowing you to tune in silence.
Tap Tempo: channel your inner guitarist with perfect synchronicity 
Delays, vibratos, tremolos, phasing, flanging, and filter sweeps are all great ways to add motion to your sound, but they're even more striking when they occur in tempo with the song you're playing—a process made easy by the MS-100BT Tap Tempo function. 
Tempo can be set in real time by either tapping a knob or the foot switch, providing you with instant synchronicity.
Auto Save: never lose that great edit 
The MS-100BT Auto Save function ensures that every edit you make is automatically saved. Edited patches can be named with up to ten characters, numerals or symbols, and can be stored in any memory area, allowing you to place your customized effect wherever it's most convenient.
Power functions: plenty of power to spare 
The MS-100BT runs on just 2 AA batteries—either alkaline or rechargeable NiMH. Alternatively, you can use the optional Zoom AD-16 AC adapter to power it from any standard wall socket. When running on batteries, the MS-100BT powers up automatically when a jack is inserted into its input connector. 
Battery life with alkaline batteries is approximately 7 hours during mono operation or 5 hours with stereo operation, even during continuous use.
Features at a glance
100 effects, including distortion, amp models, modulation, delay, and reverb  
Up to 6 effects can be used simultaneously in any order
Bluetooth® for connection to iPhone, iPad, or iPod Touch (iOS 4.3 or later)  
StompShare iOS app available for free download from the App Store
Browse, preview, purchase, and download effects wirelessly 
50 memory locations for the storage of user-created patches 
30 preset patches
Patch cycling
Onboard chromatic tuner supports all standard guitar and bass tunings, including open and drop tunings
Tap tempo function
Auto Save function for automatic saving of all patch parameters
Dual ¼" input jacks (both active and passive instruments supported) 
Dual ¼" output jacks   
Backlit LCD with contrast control for easy viewing in low-light environments
Lightweight and small enough to fit in your gig bag
Easily integrated into any existing pedalboard
Runs on 2 AA batteries, with alkaline battery life of 5 - 7 hours
Optional AC adapter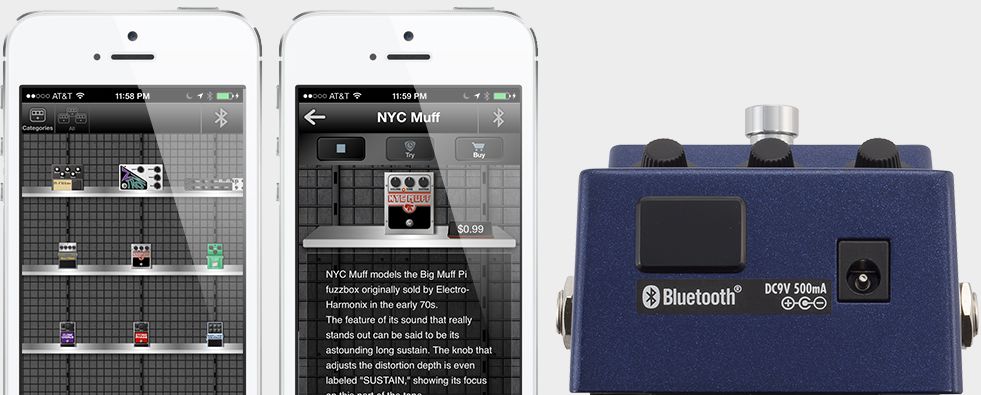 Accessories
Here's what comes included with the MS-100BT:
Operation manual
AA size (LR6) battery x 2
Optional accessories:
Media
Video
Zoom MS100BT: How to update Firmware
In this video we demonstrate how to update the Firmware on the Zoom MS-100BT Multistomp Pedal.
Tommy Bolan of NYC + MS-100BT
We were sure that the building was going to cave in on us before the end of Tommy's guitar solo. Seriously. Armed with nothing but his Schecter and the ZOOM MS-100BT, Tommy Bolan brought his sheer electric presence and crazy chops to our first Zoom Creators shoot in LA.
Specs
Number of effects:

100

Number of simultaneous effects:

6

Number of patches:

50

Sampling frequency:

44.1 kHz

A/D conversion:

24-bit, 128× oversampling

D/A conversion:

24-bit, 128× oversampling

Signal processing:

32-bit floating point and 32-bit fixed point 

Frequency response:

20Hz - 20 kHz +1 dB, -3 dB (into 10 kΩ load)

Display:

LCD

Input:

2 x 1/4'' phone jack

Rated input level:

-20 dBm*

Input impedance:

1MΩ

Output:

2 x 1/4'' phone jack

Maximum output level:

+5 dBm (output impedance load of 10 kΩ or more)

Battery type:

AA size (LR6) battery x 2

Continuous battery operation time:

Mono operation: 7 hours when using 2 AA alkaline batteries
Stereo operation: 5 hours when using 2 AA alkaline batteries

AC adapter (optional):

DC 9V center-negative, 500 mA (Zoom AD-16)

Bluetooth:

Firmware update
Data communication with iOS devices

Compatible devices:

iPhone 5, iPhone 4S, iPhone 4, 
iPad (3rd generation), iPad 2, iPad, 
iPod Touch (3rd and 4th generation)

Dimensions:

130.3 (D) x 77.5 (W) x 58.5 (H) mm

Weight:

360g (without batteries)

*0dBm=0.775Vrms