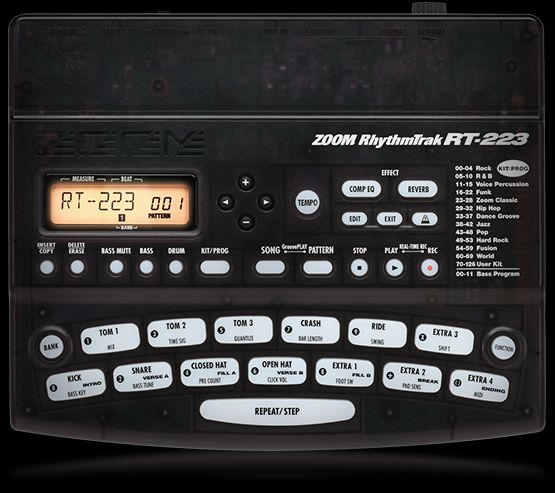 Your own personal rhythm section
The Zoom RT-223
RhythmTrak Drum Machine
The Zoom RT-223 Rhythm Trak is the perfect accompanist for every kind of performer: singer/songwriters, solo artists, DJs and bands looking for extra percussion effects. It provides 70 drum kits and 12 bass sounds, along with an intuitive user interface that makes programming easy. The RT-223 is small enough to fit in your guitar case or gig bag yet it's loaded with advanced features such as a line-level input, control footswitch input and MIDI IN, plus DSP effects like multi-band compression, filtering, chorus, flanging, delay and reverb. It's like having your own personal rhythm section wherever you go.
Seventy different drum kits and a dozen great bass sounds
The RT-223 provides hundreds of drum and bass sounds. There are 70 drum kits, each comprised of 39 professional-quality PCM drum and percussion samples. These include acoustic drum sounds for rock, R&B, funk, and jazz applications, along with electronic kits optimized for urban music such as techno, hip-hop, and dance. There's even a human beat box which allows you to create kick, snare, hi-hat, and scratch sounds from five banks of human voice samples created by Big Fish Audio.
Drum sounds can be freely selected and assigned to any of the RT-223's 13 velocity-sensitive pads, and you can fine-tune parameters like pitch, level, and panning to create your own original drum kits. The RT-223 comes with 440 preset patterns, along with numerous phrase variations, and programming your own patterns is a breeze, since the RT-223 records not only your timing, but dynamics too. You can create and store up to 127 user-programmed kits and 511 original drum patterns, with a built-in metronome providing a click track in your choice of time signatures.
In addition, the RT-223 offers 12 realistic bass sounds, including electric bass styles such as pick, finger, and slap, along with acoustic and synthesizer bass. To create a bass line, simply play the pads chromatically and record into the onboard sequencer. A dedicated switch allows you to mute the bass sound at any time.
High quality DSP effects
The RT-223 provides two types of high-quality DSP effects. COMP EQ allows you to shape the overall sound of the drum kit or bass program, while REVERB enables the sound of the drums or bass to be modulated or placed in natural-sounding spaces. The two effects can be used simultaneously or can be switched in and out individually. Up to 40 user-created effects patches can be stored in memory.
The COMP EQ section offers a multi-band compressor with independent settings for each frequency band. In addition, there's a resonance filter and a Low-Fi effect.
The REVERB section includes four reverbs as well as chorus, flanging, and delay. The effect send level can be set for each sound source individually—for example, you can apply gated reverb to the snare sound only. In addition, modulation rate or delay time can be synchronized to the selected tempo.  
Advanced features
The RT-223's intuitive user interface and backlit LCD makes it easy to create backing tracks. Most controls have only a single function, and there are no complicated multi-level menus. You can create and store up to 100 songs, either via step entry or real-time input, and the RT-223's unique FAST method enables you to create complete accompaniments with minimal programming. In addition, Groove Play mode allows you to trigger patterns simply by tapping the pads—great for DJs.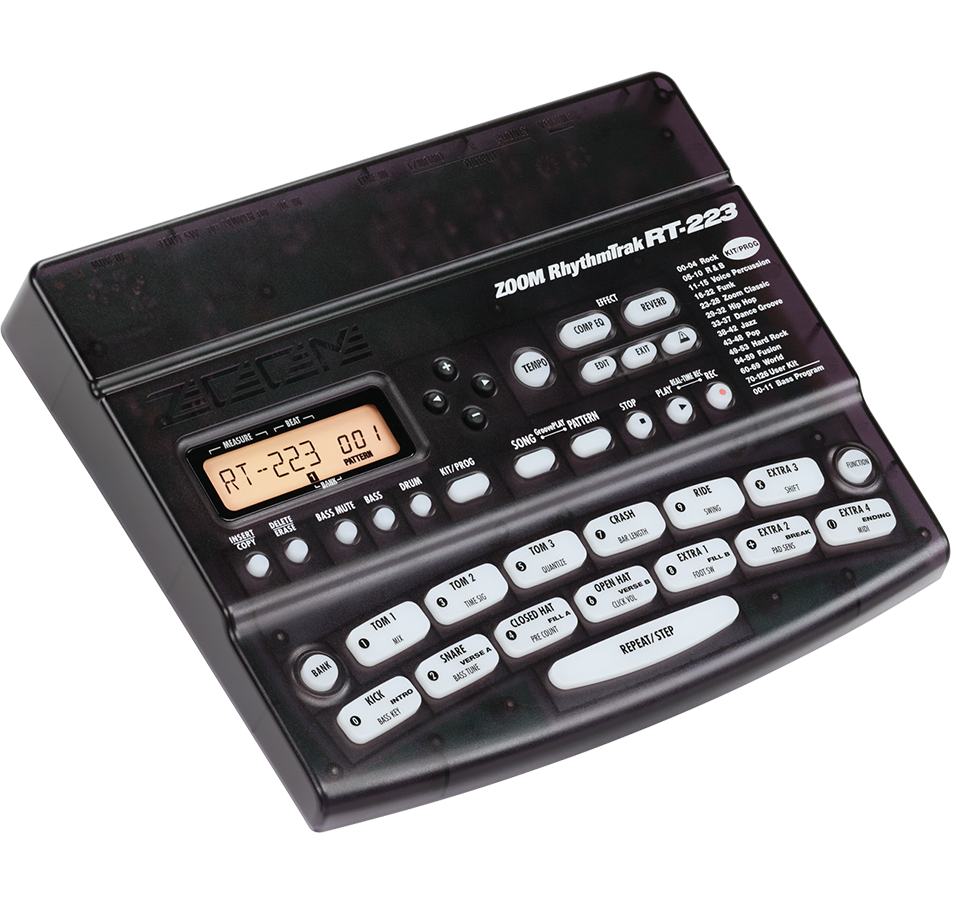 Various connectors allow you to seamlessly integrate the RT-223 into any rig. In addition to dual output connectors, a line-level input accepts signal from a personal music player or other devices. A control input allows you to connect a Zoom FS-01 foot switch (sold separately) in order to start or stop playback, perform tap tempo, trigger bass drum sounds, or switch between open and closed hi-hat. There's also a MIDI IN for synchronized play with an external sequencer; this also enables the RT-223 to serve as a sound source module in any MIDI-based system.
The RT-223 runs on just 4 AA batteries—either alkaline or rechargeable NiMH—or you can use an optional Zoom AD-16D AC adapter. Battery life is up to 8 hours with alkaline batteries, allowing you to use the RT-223 with confidence onstage.
Features at a glance
13 velocity-sensitive pads
Pads are self-lit to provide visual feedback   
70 onboard drum kits with 39 PCM drum sounds per kit
12 lifelike bass sounds, including electric, acoustic, and synth
440 preset rhythm patterns in a wide variety of musical styles and time signatures
Onboard DSP effects include multi-band compression, EQ, filtering, resonance, and reverb
Create and store up to 127 user drum kits and 550 user rhythm patterns, as well as up to 40 effects patches
Built-in metronome  
Real-time and step entry programming
FAST (Formula Assisted Song Translator) programming
Groove Play mode for DJ-style pattern triggering
MIDI IN for synchronization with external sequencers and use as a sound module
Line input for connection to personal music players and other external devices
Lightweight and small enough to fit in a guitar case or gig bag
Runs on 4 AA batteries, with alkaline battery life of up to 8 hours
Accessories
Here's what comes included with the RT-223:
Optional accessories:
Zoom AD-0016 AC adaptor
Zoom FS-01 foot switch
Specs
D/A conversion:

24-bit 8-times oversampling

Maximum polyphony:

18 voices

Resolution:

96 clock pulses per quarter note

Tempo range:

40 - 250 BPM

Number of recordable note events:

32,000

Drum sounds:

213

Bass sounds:

12

Rhythm patterns:

511

Songs:

100

Number of pads:

13 (velocity-sensitive, self-lit)

Display type:

128-segment custom backlit LCD

External control connector:

FS-01 input

MIDI in:

Standard MIDI connector

Line in:

Standard stereo ¼"phone jack (Input impedance 10 kΩ, rated input level -10 dBm)

Line out (L/MONO):

Standard ¼"phone jack

Line out (R):

Standard ¼"phone jack (Output impedance 1 kΩ or less, rated output level -10 dBm)

Headphones:

Mini ⅛" phone jack, 50 mW (into 32 Ωload)

Power requirements:

9 V DC, 300 mA (from AC adapter AD-16D)

Batteries:

IEC R6 (size AA) x 4; continuous operation 8 hours or more

Dimensions:

8.6 (W) x 7.2 (D) x 1.4 (H) in.

Weight:

1.5 lbs